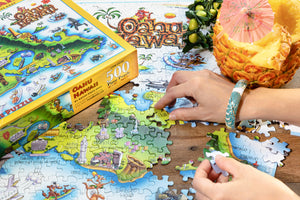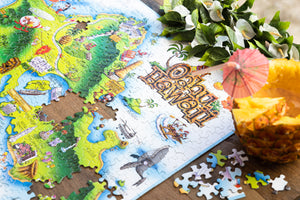 The
Perfect
Souvenir
Take home some Island Fun!
Love Hawaii and the Caribbean?
So do we!  Have fun an exploring an exotic tropical island with one of our unique travel-art puzzles. We work with top artists and use premium-quality materials to create beautiful, fun puzzles that capture the spirit of the islands!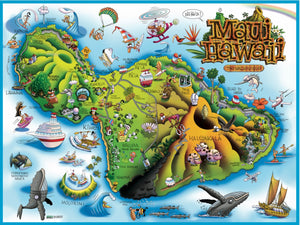 Maui Hawaii 550 Piece Jigsaw Puzzle
Oahu Hawaii 500 Piece Jigsaw Puzzle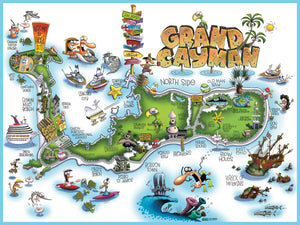 Grand Cayman 550 Piece Jigsaw Puzzle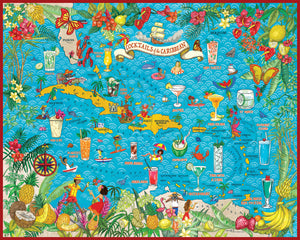 Cocktails of the Caribbean 1000 Piece Jigsaw Puzzle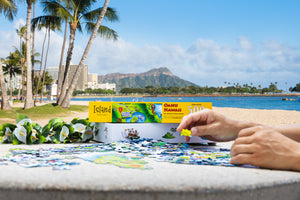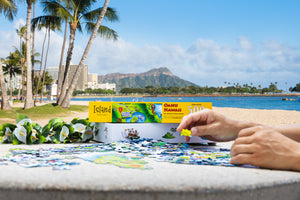 What Makes Our Puzzles Unique
We Commission Original Artwork from Some of the World's Best Illustrators
Many companies use generic photographs or stock illustrations for their puzzles. Not us! We work closely with with some of the world's top illustrators like Steve Gray and Takayo Akiyama to create stunning original artwork for our products.
We Use Premium Quality Materials and Manufacture Our Products in the USA
Our puzzles are made with premium quality puzzle board, are random cut so that they have a variety of piece shapes and are more fun to put together, and have larger pieces for easy handling. All of our puzzles are manufactured in the USA.
Extra Touches Add to the Fun
Pick up one of of our island map puzzles and you'll find interesting facts about the island on the back, making it an ideal keepsake. Choose our cocktail map, and you'll find a variety of exotic cocktail recipes. Our puzzles are awesome to start with ... and these extra touches add to the fun!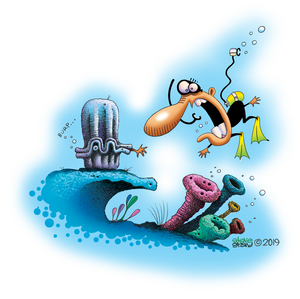 Shipping
We charge one flat rate of $6 per order for USPS Priority Mail shipping in the United States. Enjoy free shipping when you place an order for two or more puzzles!
Shop Now
We're Here to Help
Need more help? We recognize that our customers each have specific needs. 
Contact us for personalized service.